Bucket elevators are made of heavy galvanized or powder-coated sheet steel. The capacity is up to 300 to/h. They are high quality conveyors, which are stable even in high versions.
The elevators are supplied for direct coupled geared motor drive or for pulley drive.
Technical details:
elevator floor, elevator head – both with heavy ball bearings
Motor console for shaft-mounted geared motor
Band tensioner in the foot
Cleaning flaps on both sides
one inlet piece
Extension tubes in different lengths
Misalignment and speed monitoring
Backstop
Spacer plates for each connection
High-performance belt (belt)
Cups
Chain Conveyor
Horizontal conveying of grain, flour and granules up to 30° inclination. The performance spectrum ranges up to 300 to/h
The chain conveyors are made of galvanized or powder-coated material. All parts are manufactured on CNC machines and therefore 100% accurate. This production method makes the conveyor easy to assemble.
These conveyor elements can be equipped with intermediate outlets or as gutter chain conveyors. The intermediate outlets are operated manually with chain, pneumatically or electrically.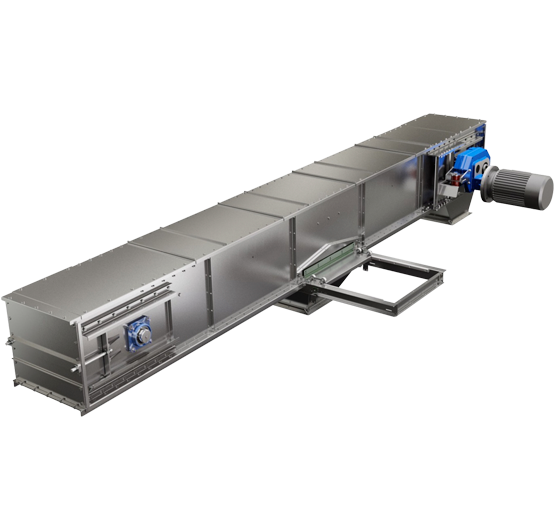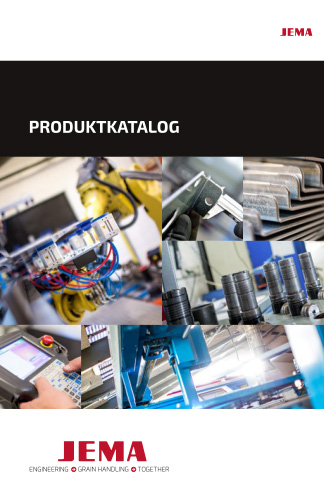 Conveyor Belts
Troughed belt conveyors, for example, can convey material in both directions and are available in various designs: e.g: shifting belts, discharge scales etc.
The capacity ranges from up to 300 to/h (grain), the construction is made of galvanized or powder-coated sheet steel
Advantage: high stability and low power requirement
A belt conveyor consists of standard modular elements, which can be easily combined and assembled on request.
Belt conveyors convince by their high conveying capacity, small dimensions and weight and easy assembly.
Translated with www.DeepL.com/Translator (free version)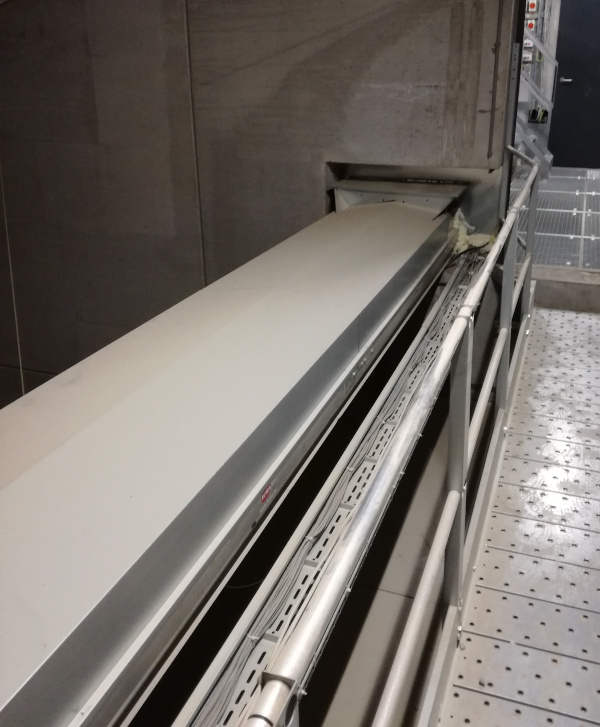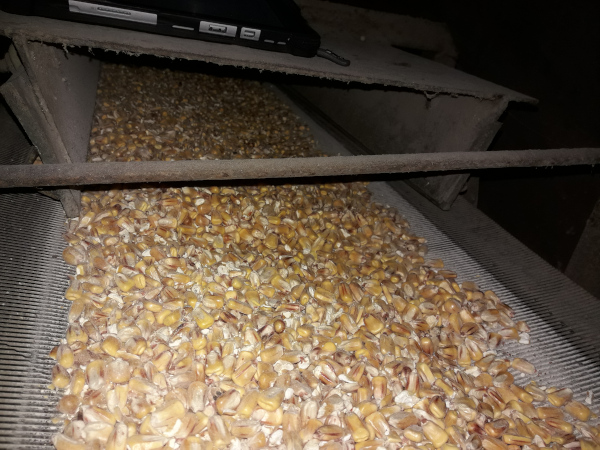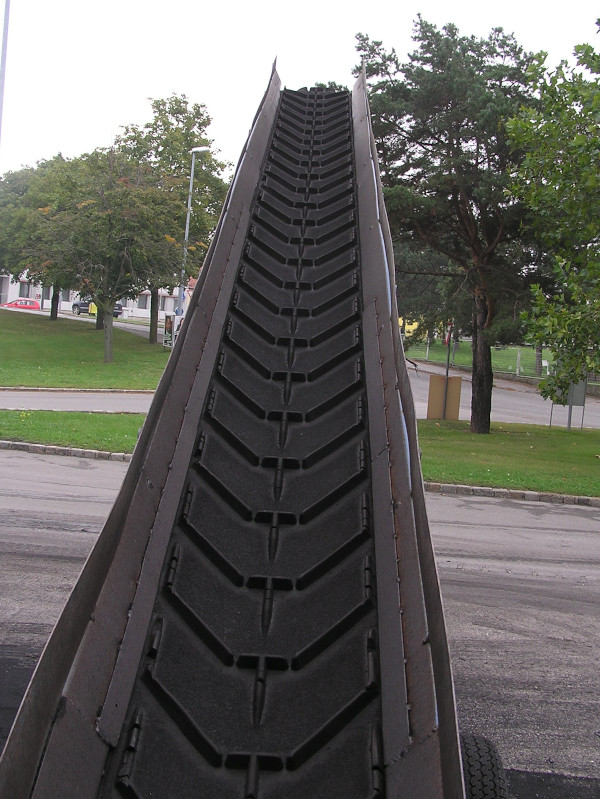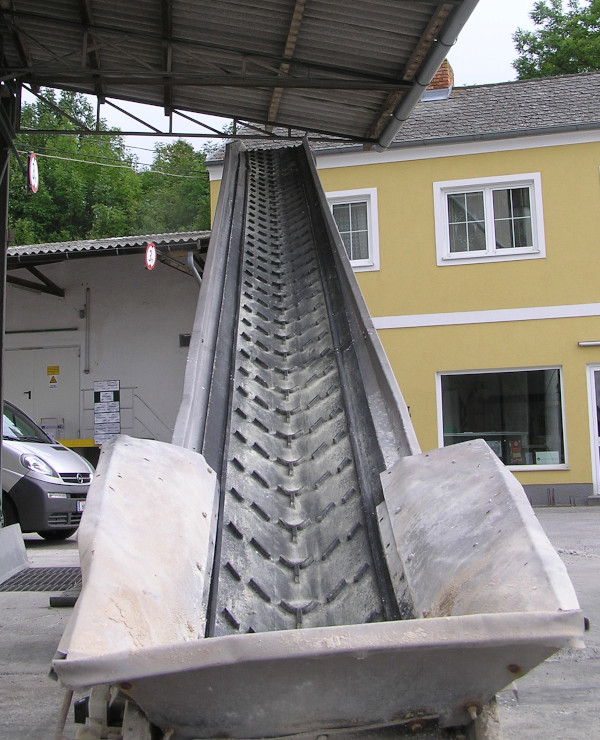 Spreading Screws

Spreading augers, for example, offer a simple solution for conveying grain to silos and flat stores.
Screw conveyors, flexible screws, trough screws and screws with dosing hoppers can be used.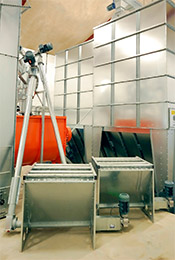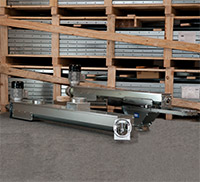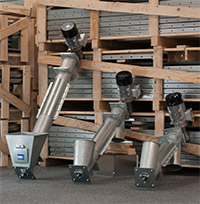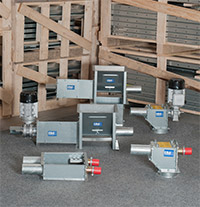 Slingshots
Mounted or compact design for easy transport
Stainless steel ensures weather resistance and protection against aggressive materials
High performance through extreme throwing distances and heights
Simple operation and easy swivelling due to vertical axis suspension
Can be combined with peripheral equipment, such as wagon discharge slides and discharge screws
Variants: galvanized – stainless steel – optionally with turntable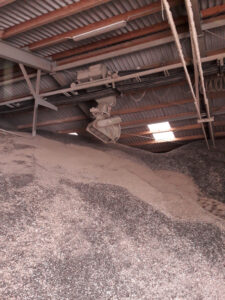 Baffle plate scale
The baffle plate scale is used for continuous weight measurement of bulk materials in powder form and as granulates.
Technical details:
The stream of bulk material is fed through the feed chute at a constant drop height, the load is transferred to the load cell. Material deposits on the baffle plate do not cause zero point changes, because only horizontal forces are transmitted.
The system can be used for monitoring or for exact quantity filling. The total quantity of the current batch, current flow rate in kg or tons per hour and other adjustable information are displayed. With the maintenance-free weighing system it is possible to connect a number of different control functions.
With serial output for data transmission or connection to recorder. The scale can be calibrated for 25 different products, each with zeroable quantity counter and total counter